Diesel was seen as fashion rule breaker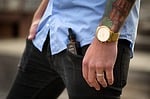 The founder of Diesel was Renzo Rosso and he set out with the aim of making the brand a leader in men's fashion.
He surrounded himself with creative people and began by designing unique pieces of clothing that made the wearer stand out from the crowd.
He gave his designers the freedom to create stylish t-shirts that would be popular across different cultures. Diesel was seen as rule breaker that didn't stick to the predicted trends and soon developed its own style and loyal band of customers.
It is for this reason that Diesel soon became a leader in developing mens and womens jeans styles, fabrics, manufacturing methods and quality control, guaranteeing the customer an outstanding quality product.
In 1991 the brand began to expand outside its home country of Italy and worked on an international marketing strategy that saw the brand move into the UK and US market. The brand has been able to successively expand across continents thanks to its broad distribution platform.
Although Diesel Jeans now outsources much of its tshirt production designer jeans production is still done exclusively in Italy. The brand has licensed the Diesel name to third parties for the production of footwear, watches, eyewear and other jewelry but t-shirts and jeans make up most of the fashion houses turnover.
The brand generates over $350million in turnover every year 15% of which comes from Italy. It owns 200 of its own retail outlets and also sells to high quality boutiques and independent stores.
Diesel has produced some controversial advertising campaigns with the most recent showing the slogan "global warming ready" which showed cities such as Paris and London after Global warming had taken place.